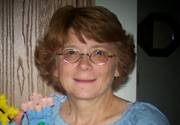 I am JoEllen. For years, it was my privilege to volunteer with Lighthouse as "the Lighthouse Counseling Services Cleaing Service." I would pray as I vacuumed and dusted in the offices where I knew clients would receive quality care, thanks to the counselors and office staff who worked feverishly to meet their needs. I believe in the mission of Lighthouse because, for years, this ministry
poured into my own healing. When I most needed Christian counseling, but was unable to pay the full amount, I was able to benefit from the Sliding Fee Scale. Today I am in a better place both financially and emotionally and want to do all I can to make healing an answer to prayer for other desperate, wounded people. I am no longer able to volunteer, but it is my joy to sow into the ministry through monthly donations.
During my healing at Lighthouse, God re-birthed a hidden talent, and I have used that creative gift to chronicle my healing through the hope of Jesus Christ. My art-print testimony of God's healing is featured at

http://www.cocooncreationsgallery-joellen.blogspot.com/

One of the additions to my collection is "Releasing the Pain". Please visit and let me know what you think. If you know of others who are victims of abuse, tell them to visit, too.
Many survivors have been touched by the prints and have ordered them. You can read their comments on the blog as well. And above all, join me in my support of Lighthouse Counseling Services as they continue to "bring hope to troubled lives."